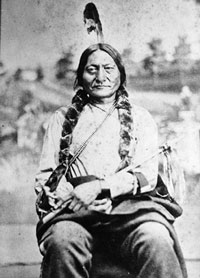 "Do you remember when television networks aired Roots for the first time? Do you remember how angry it made you feel? But also, wasn't there a certain pride, even though they depicted our people as slaves? When we watched it, we developed a mindset of "Never again!!" Well, today, I feel that same way again after watching Bury My Heart At Wounded Knee, which has been showing on the HBO cable network. This movie hit home for me, because it is home. I am a proud Oglala Lakota woman, a descendent of Crazy Horse, and half of my family is in Pine Ridge, South Dakota. I was raised to know that my tribe, the Lakota (formerly known as the Sioux) were the warriors of all the tribes. I was told that it was my tribe that the White Buffalo Calf Maiden came to and presented us the sacred ceremonies and prophecies. I was told that great medicine men came from my tribe—Sitting Bull, Red Cloud, Crazy Horse, American Horse and many more. That they fought hard to make sure that the White man didn't take their land. I was told that our survival was the buffalo, and we gave thanks to Wakan Tonka (The Great Spirit or Creator), and that we are not the owners of this land, but the caretakers of it. I was told that in Pine Ridge, South Dakota is where the American Indian Movement began in the 1960s. Even after they forced us onto a small area of land 2 million acres in size, called Pine Ridge Reservation; after having killed thousands of men, women and children to get to the Black Hills (which they still didn't succeed in doing); and after the Wounded Knee Massacre, we stood strong, and our warrior spirit is embedded in our genes. However, when I would go to South Dakota to visit my family, I would become sad, because the White man really has put a toll on my people. In Pine Ridge, the unemployment rate is 90 percent. Drugs, alcoholism and gangs are rising at an alarming rate. Because fresh fruits and vegetables are sparse, Type 2 Diabetes is starting to appear in Native American children as young as age 3. Some of the youth are imitating the negative parts of Black culture seen in music videos and movies. There is no funding for community youth programs that can stay longer than a year, so this forces Native American youth to not be involved when another program starts up, because they are tired of disloyal and uncommitted adults." Get the Story:
Yo'Nas Da Lonewolf-Muhammad: My heart is heavy, but my spirit is strong
(The Final Call 6/21) Relevant Links:
Bury My Heart at Wounded Knee, HBO -
http://www.hbo.com/films/burymyheart
Adam Beach, official message board -
http://www.adam-beach.com/beach_talk
Related Stories:
Letter: HBO fails to deliver 'Wounded Knee' truth
(06/04)
Review: 'Bury My Heart' in Washington, D.C.
(5/25)
Review: 'Bury My Heart' doomed from the start
(5/25)
Variety: 'Wounded Knee' a limply told story
(5/24)
Review: 'Wounded Knee' a bold historic drama
(5/22)
Cindy Adams: Beach proud of heritage, success
(5/21)
Adam Beach gives 'stirring performance' on HBO
(5/15)
Adam Beach has three year Law & Order contract
(5/10)
HBO movie adds mixed-race character to cast
(5/9)
Column: Adam Beach committed to his people
(4/2)
Adam Beach has 'special' role in Law and Order
(02/20)
Time: Adam Beach on Native roles in Hollywood
(2/5)
Variety: Adam Beach to join Law & Order cast
(1/26)
Memories of Ira Hayes fade among Gila River
(10/27)
Review: Flags with Adam Beach one of best movies
(10/20)
Adam Beach wins 'Rising Star' award for 'Flags' role
(10/17)
Adam Beach praised for portrayal of Ira Hayes
(10/10)
Adam Beach plays Ira Hayes in 'Flags of Our Fathers'
(10/6)
HBO casts for 'Bury My Heart at Wounded Knee'
(09/12)
Native Threads clothing expands to Canada
(02/28)
Movie Review: Adam Beach in 'Now and Forever'
(08/19)