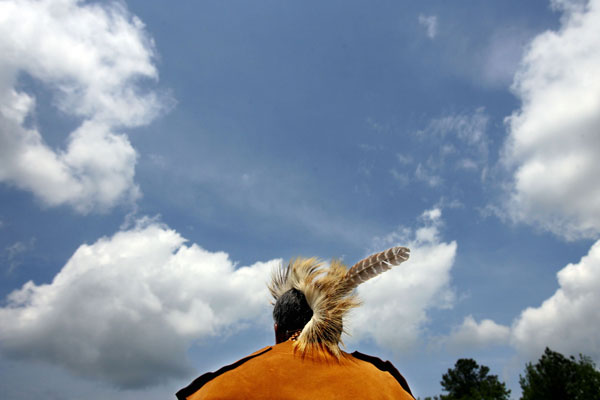 The Virginian-Pilot published a three-part series on Virginia tribes and their quest for federal recognition. The tribes were the first to greet the European settlers at Jamestown. They also signed a treaty in 1677 with the Queen of England and have maintained ties to the nation. But the tribes remain unrecognized by the U.S. A bill that passed the
House
last week and is working its way through the
Senate
could finally change the situation. "We were here first," Kenneth Branham, the chief of the Monacan Nation, told the paper. "We should be holding meetings to decide whether to recognize the European races here – not the other way around. It just really galls you." The tribes are mainly concerned about federal funding and acquiring land. The bill ensures they can follow the land-into-trust process but contains some limits. It also bars the tribes from engaging in gaming under federal or state law.
H.R.1385
recognizes the
Chickahominy Tribe
, the
Chickahominy Tribe-Eastern Division
, the
Upper Mattaponi Tribe
, the
Rappahannock Tribe
, the
Monacan Nation
, and the
Nansemond Tribe
.
S.1178
is the Senate version. The full list of stories can be found on the
Special Reports Archive
on the Virginian-Pilot website. Get the Story:
Virginia's Indian heirs cling to sliver of native soil
(The Virginian-Pilot 6/10)
Red tape separates Indian tribes from federal cash
(The Virginian-Pilot 6/10)
Tribes pay rent to Virginia for 3 centuries
(The Virginian-Pilot 6/10) Recognition Bill:
H.R.1385: Thomasina E. Jordan Indian Tribes of Virginia Federal Recognition Act of 2009
Related Stories:
Column: Don't make Virginia tribes wait any longer
(6/8)
Virginia tribes focus work on Senate after House win
(6/4)
Lumbee, Virginia recognition bills on House agenda
(6/3)
House committee advances two recognition bills
(4/22)
House Resources markup on recognition bills
(4/21)
Congress urged to recognize six Virginia tribes
(3/19)
Audio: House hearing on federal recognition bills
(3/18)
Witness list for hearing on recognition bills
(3/17)
House Resources hearing on federal recognition bills
(3/16)
Column: Virginia tribes deserve federal recognition
(3/12)
Bill to recognize Virginia tribes introduced in House
(3/10)